Baptist Health South Florida Jobs
Receive alerts when this company posts new jobs.
About Us
Industry

Hospital, Diagnostic & Ambulatory Services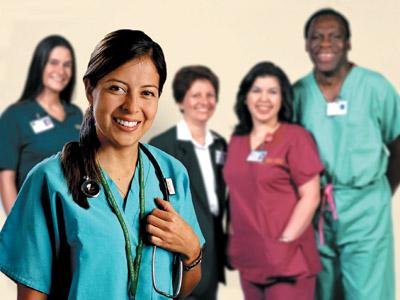 Baptist Health South Florida for all the right reasons.
"100 Best Companies to Work For"
Fortune magazine
"100 Best Companies for Working Mothers"
Working Mother magazine
"100 Most Wired Hospitals and Health Systems" Hospital & Health Networks
We admit we are proud of the many honors and considerable praise that continues to come our way. We are recognized for the quality of care we deliver, for our breakthrough thinking and commitment to innovation, for our leading edge resources, for the fact that patients throughout the area see us as the best place to be when illness strikes and just as importantly, for the way we treat our employees.
When we tell members of our team that we are committed to taking special care of those who deliver on our quality care promise we walk the talk. Our range of benefits that include many scheduling options, scholarship programs, on-site day care, on-site dry cleaning, meals-to-go, wellness programs and more, sets standards and wins the hearts of those on the team.
Our mission is to have the healthiest workforce in America. To help achieve this, Baptist Health created Wellness Advantage in 2001, which includes employee health fairs and fitness centers, discounted Pharmacy, a "Minimal Lift" Program, annual employee physicals, exercise classes and weight control programs, healthy cafeteria meals and more. In June, the National Business Group on Health named our program a "Best Employer for Healthy Lifestyles," at the platinum level, their highest honor. In September, we learned that the Wellness Councils of America bestowed their "Well Workplace Gold" designation on our program.
We are one of only nine healthcare institutions in the country to make Fortune;s list of best places to work and we consistently look for new ways to help members of our team enjoy life as well as their work.
And there's more good news. We're growing, expanding our services, enhancing the options we offer patients' ¦which means we are hiring experienced RNs. Our outstanding facilities include Baptist Hospital of Miami, Baptist Cardiac & Vascular Institute, Baptist Children's Hospital, South Miami Hospital, Homestead Hospital, Mariners Hospital, Doctors Hospital and Baptist Outpatient Services. This is your chance to join a top rated healthcare organization that will keep your needs, your interests, your desires and your concerns top of mind.

Open Ambulance Jobs
There are currently no advertised positions at Baptist Health South Florida in Ambulance